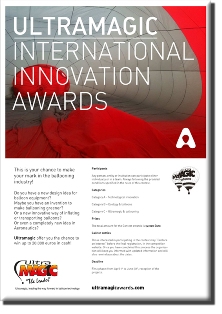 The Ultramagic International
Innovation Awards
The Ultramagic International Innovation Awards
Ultramagic are pleased to announce that

The Ultramagic International Innovation Awards Contest
is now open.
Full details and rules can be found on the website

www.ultramagicawards.com
The contest gives everyone the chance to make
their mark in the ballooning industry whilst also having the opportunity
of winning large prizes.
Ultramagic encourages everyone to enter with their ideas
to improve balloons and ballooning.
The total prize money is
52,000 Euros
covering three categories as follows.
Category A - Technological innovation
Category B – Ecology & balloons

Category C – Ultramagic & ballooning

Each category has a top prize of 10,000 Euros and
there is also a special prize of 10,000 Euros
giving the chance to win a total of up to 20,000 Euros.
Each finalist is guaranteed to win 1,000 Euros.
The contest is open to all (subject to the rules).
Good luck to everyone from Ultramagic Balloons.
Promotions

Regala un Vol en globus, Per Nadal i Reis. Us farem arribar els...
Read More

Oferta de volar en globus, si teniu...
Read More
News

Ja tenim les Caixes de Regal de Nadal I Reis ...
Read More

Vol en globus per grups..
Vol en Globus adaptat

Balloon Flight
caminsdevent.com