A hot air balloon festival where you can take part of
Live from inside the European Balloon Festival
If you are a fan of hot air ballooning, we have the perfect plan: become part of Camins de Vent crew during the 4 days of the festival.
From 11th to 14th July we want you. Join our crew and live the European Balloon Festival on a unforgettable way.

Being part of our team means flying in our hot air balloons and helping in all the tasks before and after the flight; you can help to prepare the balloon, the material, help on retrieving, ...
You will also learn how are the hot air balloon competitions and the different tasks that pilots must do to try to win.
You will also become an essential part on the magic Night Glow and live all the unique moments og the EBF.
Can there be something better? Feel free to contact us to have more information about this amazing hot air balloon festival in Europe.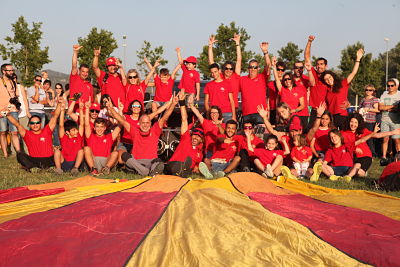 To book your experience send us an email to This email address is being protected from spambots. You need JavaScript enabled to view it. or call us to +34 93 396 73 00
The experience costs 1400€ and includes:
4 hot air balloon flights (if the meteorology is good)
4 hotel nights during the festival
1/2 board (all the breakfasts, the dinner of firsts 3 days and the lunch of Sunday).
Official equipment and clothes of Camins de Vent
Take part in all the events and activities of Camins de Vent during the festival(briefings, gas refuel, team meetings...)
Do you fly with us?