European Balloon Festival in Igualada
Hot air balloon fiesta near Barcelona from 11th to 14th July 2019
European Balloon Festival 2019
Do you want to fly in a hot air balloon during the biggest hot air balloon festival in the south of Europe? With Camins de Vent you can book now your flight to fly one of the 4 days of the festival.
The European Balloon Festival took place by first time on 1997. Since then, is has been a big event every year of middle July. It is a well known festival that has become one of the biggest hot air balloon festivals in Europe. This year Igualada will be filled with magic from 11th to 14th July. The festival brings 50 pilots from all around the world and it is visited for more than 25k spectators. During the 4 days of the festival, Igualada is filled with multiple activities for children and adults. From musical events to children activities, photographic contests and the famous Night Glow (on 13th July).
The hot air balloon competition during the festival adds a touch of adrenaline, as the balloons have to do different tasks to win as much points as possible. The hot air balloon flights are done at first hour at morning and late evening. Enjoying the take off is amazing, at morning with the passengers flights and at evening only with the competition balloons. Now imagine yourself flying surrounded by 50 balloons and enjoying the sunrise.
And if you are a fanatic of hot air ballooning, we have the perfect plan: be part of our Camins de Vent crew during the 4 days of the festival. Live the festival from the very inside is an unforgettable experience. You will be able to fly and also help with the retrieving. Have lunch with the team and take part on the Night Glow fiesta. What are you waiting for to live the festival on a unique way? Enjoy all the week for 1400€ -more info-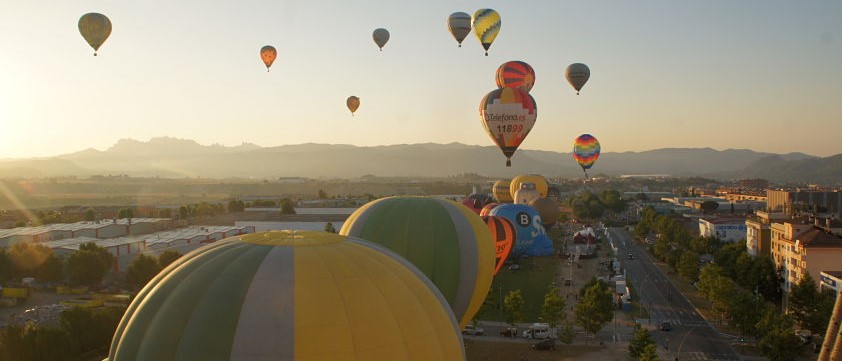 THE ACTIVITY

We will meet at sunrise in the fiesta field and we will give you the welcome pack.

You will be guided to your balloon. Once everything is ready, it is time to get into the basket.

The flight will be over amazing landscapes during 1 hour approximately.

Once landed, we will collect the balloon, an activity you can join.

We will do a champagne toast with pastries and the pilot will give you the flight certificate.

The pictures of the activity will be sended by email.

Our off-road vehicles will drive us back to the starting point.
What are you waiting for to fly with us?

Thu 11th July -> 148 euros/person
Fri 12th July -> 148 euros/person
Sat 13th July -> 178 euros/person
Sun 14th July -> 178 euros /person
Or enjoy a private flight for 330 euros /person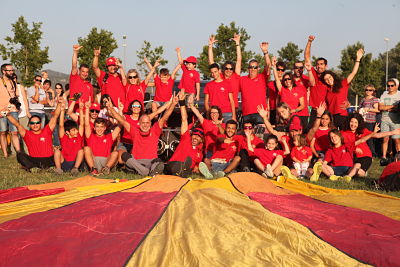 Our big crew is waiting for you