4 hot air balloon flights, 19 tasks and a hard-fought podium
Blai Carbonell, Iván Ayala and Carles Figueras made it to the Spanish hot air balloon Championship podium
On 30th September the Spanish hot air balloon Championship started in the city of Haro, in La Rioja. This hot air balloon championship (link 00h41m30s) lasted 4 days and a total of 4 flights and 19 tasks. The award ceremony was on 2nd September in the town hall of Haro.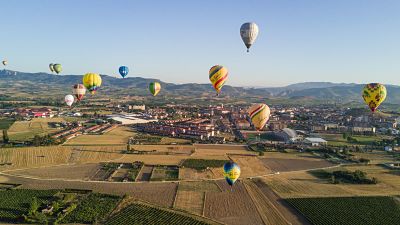 Hot Air Balloons above Haro

The podium has been hard-fought between the 3 favourites, but finally Blai Carbonell won the gold medal with 14.391 points. With only 14 point less, the pilot from Haro, Iván Ayala took the second position. 14 points in this kind of competitions is an small difference that makes the competition much more interesting. In third position and with a difference of 884 points with the pilot Iván Ayala, Carles Figueras took the bronze medal with 13.493 points.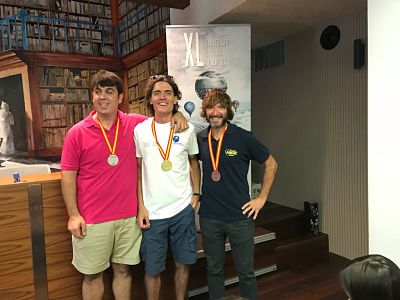 From left to right: Iván Ayala, Blai Carbonell and Carles Figueras
The 12 pilots that competed fought to give their best in the different tasks they had to resolve. This tasks had been interesting, as hare and hunt or throw a marker to a target.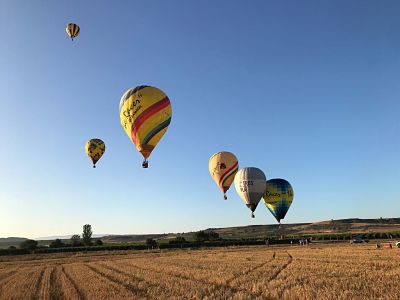 Hot air balloons above Haro
The Camins de Vent team participated with "Foc" and a team composed with parents and sons. The fun has been the main target during the flights.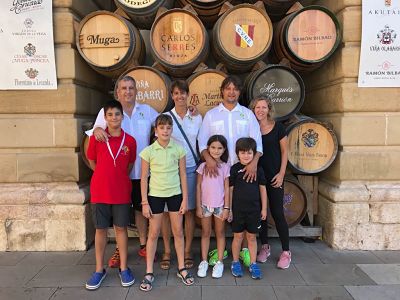 The Camins de Vent team in Haro

It is important to mention that the pilot Iván Ayala ended in 5th position in the World hot air balloon Championship in Austria at the end of August 2018, a fantastic position. The podium of the World Championship was ont 1st position to the young British pilot Dominic Bareford.

The next event where Camins de Vent will take place is in England. From 14th to 16th September Camins de Vent team will be in Sky Safari. Be connected to follow the event.