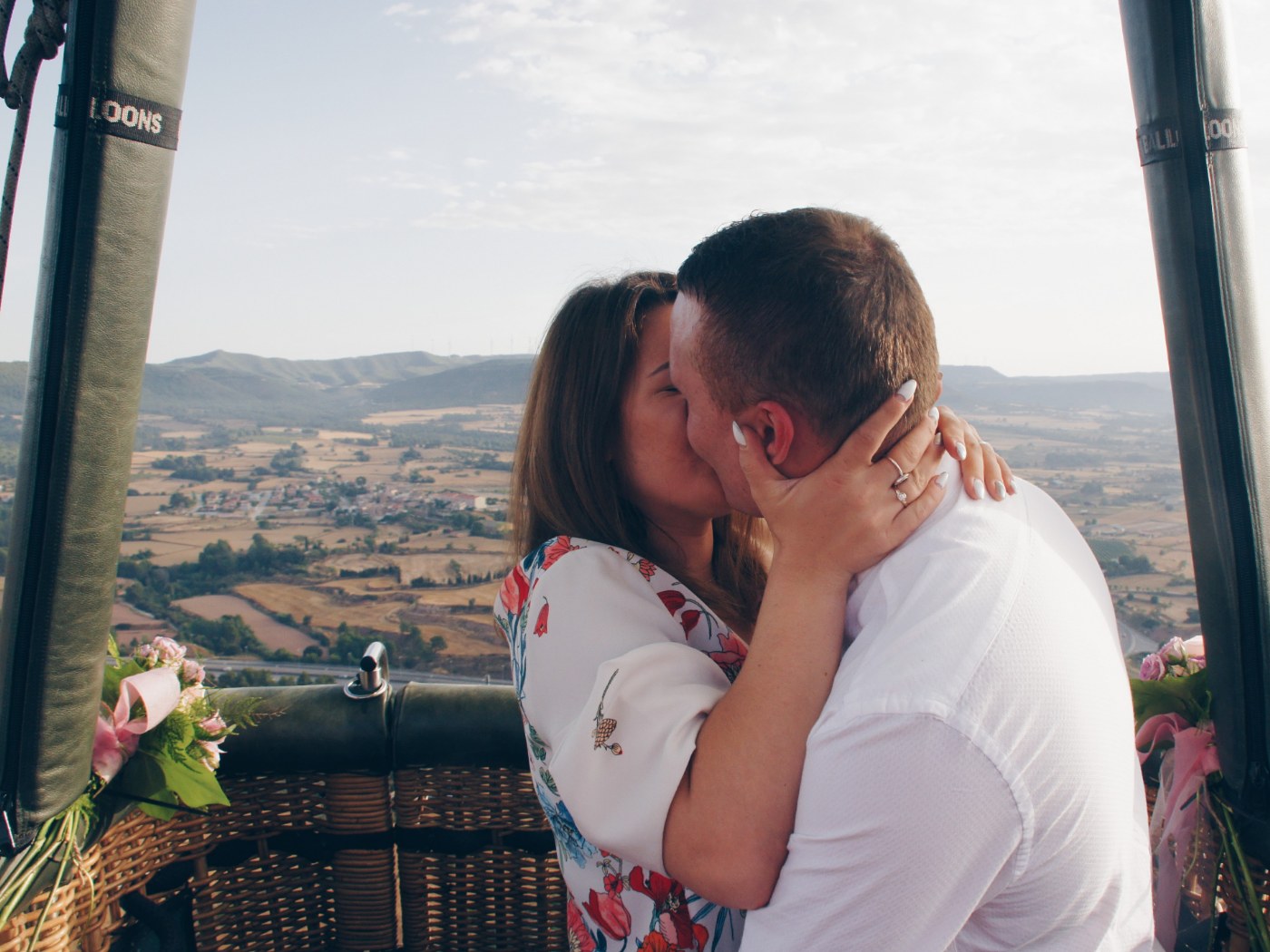 In this publication we give you 5 tips on how to make a marriage proposal on a balloon flight. Imagine floating in the air with the person you love most while you ask the question that will change your lives forever. You cannot miss a single detail, because this is an occasion that you will remember forever.
1) Choose the right place and time
The first step to a perfect balloon flight marriage proposal is choosing the right place and time. Make sure you choose a scenic location with stunning landscapes. In this link you can see the flight areas that we have spread throughout Catalonia. With all this information you will be able to book a balloon flight with all the guarantees that the occasion requires.
2) Plan the details in advance
A balloon flight can be unpredictable, but you can plan many details in advance. Make sure to contact us so we can coordinate them. Come prepared with everything you need and above all, don't forget the ring or the camera.
Meticulous planning will help you enjoy the experience.


3) Choose your words carefully
When it comes time to ask the question, be sure to choose your words carefully. This is a special and emotional moment, and what you say will be remembered forever. You can share your feelings and reasons why you want to marry this person. Whatever you want to express, make sure it is sincere and comes from the heart.
4) Capture the moment
A balloon flight is a unique experience and the moment of the proposal will be fleeting. Make sure you have a camera or phone with a good camera on hand to capture that moment. You can also consider bringing a friend or a professional photographer to immortalize this moment in the highest quality.
5) Celebrate and enjoy
After the proposal and the excitement of the moment, don't forget to celebrate. Open a bottle of cava, enjoy a spectacular view and celebrate the love that unites you. This is a time to relax and let everything you have just experienced intoxicate you with happiness.
Making a marriage proposal on a balloon flight can be an unforgettable experience. Choosing the right place, planning the details, choosing the words carefully, capturing the moment and celebrating are the 5 keys to a successful proposal. Don't forget that this is a moment that will unite you forever, so enjoy it to the fullest and make it an experience that you will remember with smiles throughout your life.
Now that you have all the keys, you are ready for a magical balloon flight and an unforgettable marriage proposal. Take advantage of this opportunity to create memories that will last a lifetime.
Contact us for more information about marriage proposals on a balloon flight