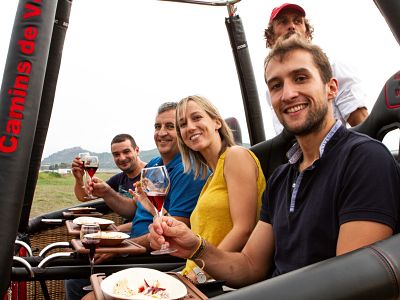 You can book the ticket without an specific date and area of the flight, perfect for gifts.
Valid 365 days from purchase
Gastronomic hot air balloon with tasting menu during the flight
The gastronomic hot air balloon flight is a very special and unique flight. Four seats, complemented with tables and access doors, create a unique hot air balloon basket in the world. The menu is inspired in the Mediterranean culture, and can be sweet or salty, depending on the guest's preferences. The experience of flying over a stunning landscape while enjoying a Mediterranean inspired menu is an unforgettable and exclusive experience.

If you may want more information about the menu or you have preferences, please contact us and we will help you. The price of the flight includes 4 people.

The flight includes:
Preparation of the hot air balloon
Flight of one hour and a quarter approximately
Tasty menu -sweet or salty- during the flight
Landing and collect of the balloon
Cava toast with sweet pastries and fruit
Flight Certificate
Pictures of the activity
Return to the meeting point by off-road vehicles
The activity lasts 3 hours.